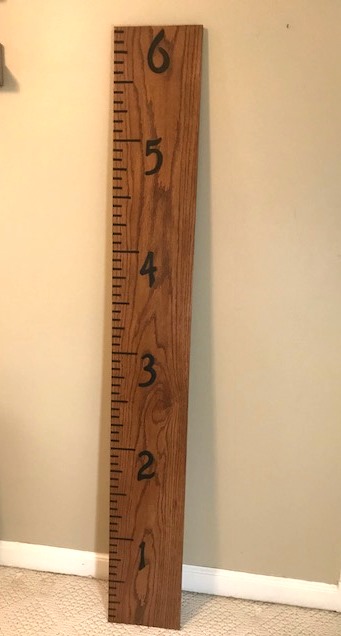 Oak Growth Chart Ruler
This is a solid Oak growth chart ruler. This ruler measures 6' (Height) by 9.5'"(width). Each of the inch marks on the ruler have been routed out. This ruler contains a "Minwax" "Early American" stain with a semi gloss polyurethane finish to ensure its durability over many years. The positive to a semi gloss finish is any unwanted child marks can be easily removed using mineral spirits.
Disclaimer: The item you purchase may have slightly different wood grain as the bench pictured here. Please allow up to 4 days of production time before shipping for adequate craftsmanship and finishing. Cumberland Valley Woodworking generally uses "Minwax" products but does not affiliate with or promote their finishes.